Sixth edition of Symphony Party, organized by Madwizard & Friends, took place on 25-27th of September 2006. This time the party place was completely wilderness – Piecnik willage near Walcz. I went for party with Adamsoft and Kopernik who came to my settlement by a car on Friday afternoon. After packing the luggage we went to the journey to Walcz direction across Stargard Szczecinski. Without any problems we arrived to party place which was located in forest near Piecnik willage.
While riding the bumpy road, some signposts prepared by the organizers appeared to our eyes, from which most distinguished was one with arrow and word "CZORT" (devil). We knew then that we are close to the destination place :). Finally we passed winding and full of holes road and soon we came to the party place which this time was unusual forest scout's house, called by the local people as Stanica. Small team of party people holding beers in their hands and singing different songs came to welcome us. After saying hello to everyone I've realized, that not so much people arrived at that time on the party.
For the first view of the eye everything looked quite normal. Although soon to my eyes appeared big road sign announcing end of buildings (crossed houses) decorated with a big inscription "Your mother washes in the river!". Soon I understood the meaning of this slogan :). Next I saw quite devastated and glued poster from Bravo with the vocalist of Tokio Hotel band. Main part of the party place was a big wood room, separated to the 2 pieces sealed with GGS posters. Front part of this big wood creature was something like a canteen for scouts, rear part has fireplace, which was non stop occupied by the party people. This place was also good for sleep for some tired sceners. At the left side there was located a complex of tents in which we could locate ourselves, so we did.
After calling V0yager sceners opened first 0,5 l bottle of vodka which was emptied quite fast by the team with Kopernik on top. Outside other party people were doing all kind of evil, which is typically for this kind of parties. For example they did common devastation of road sign and more other things. Some of sceners came here one day before. At that time there were still young scouts doing synchronized dance. It got recorded by Fei who also played for those girls "Komputerowy Misio" song for which they also danced :). Voicer wasn't standing at the back and joined scouts to the common exploits. It means that there is no worth to come to the party place at the last minute, because you can miss really much interesting situations.
To my eyes soon hit the person of Lysy with shaven haircut and "Zloooo" inscription written at the back of his shirt. Looks like the party was already great. On the party place was present only one guest from abroad scene – Wix from Sweden, who attended also previous editions of Symphony. Generally atmosphere was really friendly. I felt almost like I've been on the camp. No caddishness and special cattle were presented. I think, that the main reason was that we've been treated really as a humans. They served us breakfasts, dinners and suppers, like on canteen and the owner of this place, mister Edek, was really nice for everyone and turning a blind eye for all evil done around. Nearly was resting the kennel of a dog named ABI, which got spotted by party people who added "K" letter which gave "Kabi" word :). Additionally kennel was signed by the word GOTYK which was probably related to one of colorful character of Symphony – Deadman who after one year of break came to party. Adamsoft also surrended to the hairdresser's treatments and he looked after as "running out and don't go back".
Among party people was reigning megaphone for batteries, which was rambling from hand to hand, until the battery got exhausted. To the party place came Dagon, who according to what he was saying, came by taxi from faraway and didn't had any money for entrance fee :). Boring party people started with wrestle fights, where dominant character was famous Kierownik. Next after conversation with Bloodman I set up my C64 on the party place and connected to equipment. After a while first demoshow from C64 has started, which was unfortunatelly disrupted by some sceners hungry for fun. After finishing presentation of C64 demos people were moving everywhere, drinking last stocks of beer and talking about everything. In the background Kopernik puked, who originally went to sleep on the table, and next started to throwing out some unidentified sounds. Being tired I went to sleep, but in the night was quite cold and moreover Kopernik who moment before came to the same tent, again started to puke noising mercilessly with that. After some time Adamsoft woke me up, who was searching for his phone. What is more interesting, Kopernik also lose his phone too, but luckily he found him in the place of his previous puking.
On the morning I woke up and while waiting for the breakfast I was talking with party people. Further partying was going on without any breaks. More people went to the nearby shop (actually one and only in the region) to buy some beer fuel. I also went with Spider and GDR! and one more guy, which pseudonym now I don't remember. On the way back even I've found full, not opened bottle of Zubr beer. Soon Data/De-Koder/Tropyx came to party place. In meantime Silent Riot found in his stuff a foil for pallets and people came with the idea to wrap up Voicer around the tree by her, which was done with enough of a success :). Adamsoft afforded to look him into the fly :). Silent got connected to the table :).
Count also came to the party place in the presence of his girlfriend. It was for me a big surprise seeing Count being really quiet and humble, how so different from the person which he presented by himself during last few years. Seems that the presence of the girl changed him totally… It's a shame, because he was always colorful person of the party and her integral symbol. But others were partying very well! Bored party people decided to make some manipulations with extinguisher and soon on the party place became much gray like as in the fog. Problem became soon, when on the action went second extinguisher. Angry Silent turned off the music and commanded to convene all of the people. He threatened, that the party will be cancelled when the culprits will be not found. Only one of them confessed to that incident – Kierownik. Party people managed money collection to my cap and with deducted sum we went to mister Edek. Owner of the area got the money with smile and some of party people discretely asked Silent, that if the extinguisher got opened, there is still possibility to use her completely. Soon grey smoke came again and in this action took part also Silent Riot himself.
Other party people were busy with shooting from Adamsoft's rifle. On the previous evening the target of the snipers were lamps. This time they've been shooting to the cans. By the way one glass from nearby barrack suffered. Around there was a general drunkenness, people were tasting different mixtures imported by for example Spider and GDR!. They've been using also lampshade for drinking, which got distorted from scout's house. Next we started to distribute idents among party participants and on the end we've realized, that on Symphony 2006 came around 50 persons.
Preparations for competitions has started. Silent Riot was preparing screens on his PC and I was doing second C64 demoshow. The biggest acknowledgement got Execute Overdrive/Smash Designs demo. Finally competitions has started and for the first fire went the music. By my tune which actually was a cover of famous song "Mig – Co Mi Dasz?", whole audience was singing very loud and having fun very well :). Next went graphics, demos and on the end wilds entries from which production from GGS called "Wataha Zua" knocked down everyone from laughter. Naturally for average person who wasn't been one year before on party, most of the gags from this wild competition will be incomprehensible.
Between competitions Silent was calling to several people, for example he was trying to call to famous Monk, unfortunately without success. Generally atmosphere was really good, it was funny, but whole main place was quite tight and big screen could be covered by just one person. There was also quite cold, because that scout's house wasn't heated in any way. Atmosphere of the party was raised also with popular slogans enriched with new like "What did Adamsoft?" or "By what are you going on party?" :). Between competitions there was also some time for party at most popular scene hits like "Nas nie przepijat" or "Co mi dasz". The parquet at big screen got filled with sceners of course with my participation and there were done common crazy dances.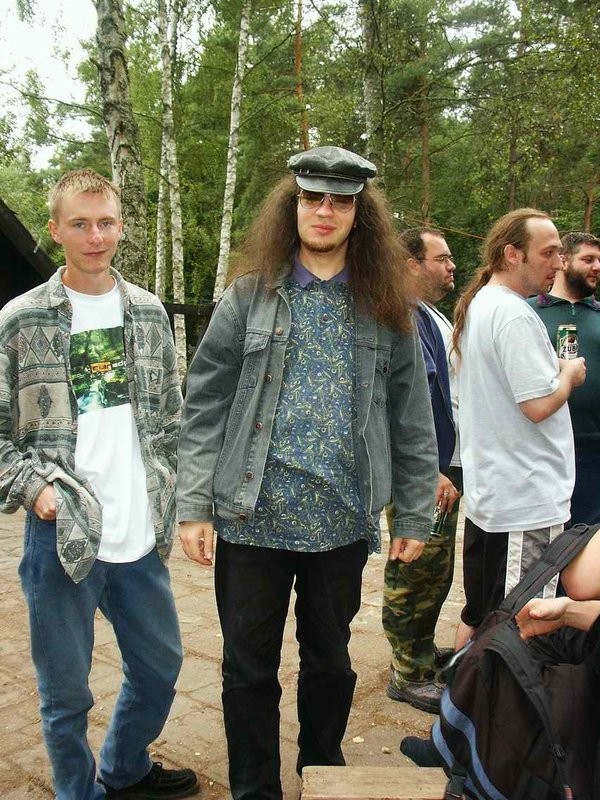 Finally after competitions being tired I went to sleep, however like always I was disturbed by cold and mighty noise. On the morning after woke up I've realized, that some people are preparing to going back to their homes and some of them are already gone. While waiting for breakfast we've watched repeat of Wataha Zua and next different crazy movies like Hard Gay etc. Later, fighting with silence, I was playing music from Winamp for example Scooter songs. After eating the dinner we decided to pack our stuff and went into way back. Around 6 PM I was in home, being tired but happy from attending such successful party.
Symphony 2006 – photo gallery:
---
In sum I must say, that it was one of the best Symphony editions. There was maybe only poor attendance and mister Edek, who after party made us a lot of problems with whose now Silent Riot are struggling. Therefore organization of Symphony 2007 currently is in doubt. However I hope that soon I will be able to come again to this crazy party to wash stuff in the river together with other party people :). Thanks to everyone for coming and great party! See you soon!
Paweł "V-12/Tropyx" Ruczko
Symphony 2006 – competition results with works from C64:
---
 CHIP/SID Music Compo
1. Genuine Next Part – Traymuss/Addict (15 p.)
2. Co Mi Dasz – V-12/Tropyx (7 p.)
3. Yautra – Traymuss/Addict (4 p.)
4. Numer Dozwolony – Traymuss/Addict (3 p.)
4. Sky Above Us – KAM/Iris (3 p.)
5. Vein – Klax/Oxygen64/Voodoo/Draco/Tropyx/Clochard (2 p.)
5. Timetable – Surgeon/Vulture Design (2 p.)
5. Cipek – Aceman & Jakim (2 p.)
6. Inner Sins – V0yager/Tropyx (1 p.)
7. Edition – Data/De-Koder/Tropyx (0 p.)
This report was made when Volcano got the idea to collect new articles for 10th issue of Newspaper/Exon discmag. This issue wasn't ever released because there were no more people willing to write other texts. My report was also never published anywhere, because at that time on Polish C64 scene people stopped to release any of discmags.
I wrote this report on 16th of October 2006. Here you can find the original text which I've translated from Polish on 19th of Februrary 2010 and to which I've added memorial scan of ident and few photos with previously unpublished movie from Data and also some photos by Dreamweb, Fei, Gorzyga, Qix, Shexbeer and Venire.